SpringWorks Therapeutics today announced that the company has entered into a clinical trial collaboration agreement with Pfizer to evaluate SpringWorks Therapeutics' investigational gamma secretase inhibitor (GSI), nirogacestat, in combination with Pfizer's anti-B-cell maturation antigen (BCMA) CD3 bispecific antibody, PF‐06863135, in patients with relapsed or refractory multiple myeloma.
Gamma secretase inhibition prevents the cleavage and shedding of BCMA from the surface of myeloma cells. In preclinical models, nirogacestat has been shown to increase the cell surface density of BCMA and reduce levels of soluble BCMA, thereby enhancing the activity of BCMA-targeted therapies, including CD3 bispecific antibodies.
Saqib Islam, Chief Executive Officer of SpringWorks Therapeutics Said: This collaboration is another important step in continuing to advance our goal of developing nirogacestat as a best-in-class BCMA potentiator, and we are pleased to work with Pfizer to study nirogacestat in combination with PF‐06863135, which has recently demonstrated promising monotherapy clinical data, We now have five collaborations with industry-leading BCMA developers to evaluate nirogacestat in combinations across modalities. We look forward to generating clinical data with our collaborators to further evaluate the ability of nirogacestat to improve outcomes for patients with multiple myeloma.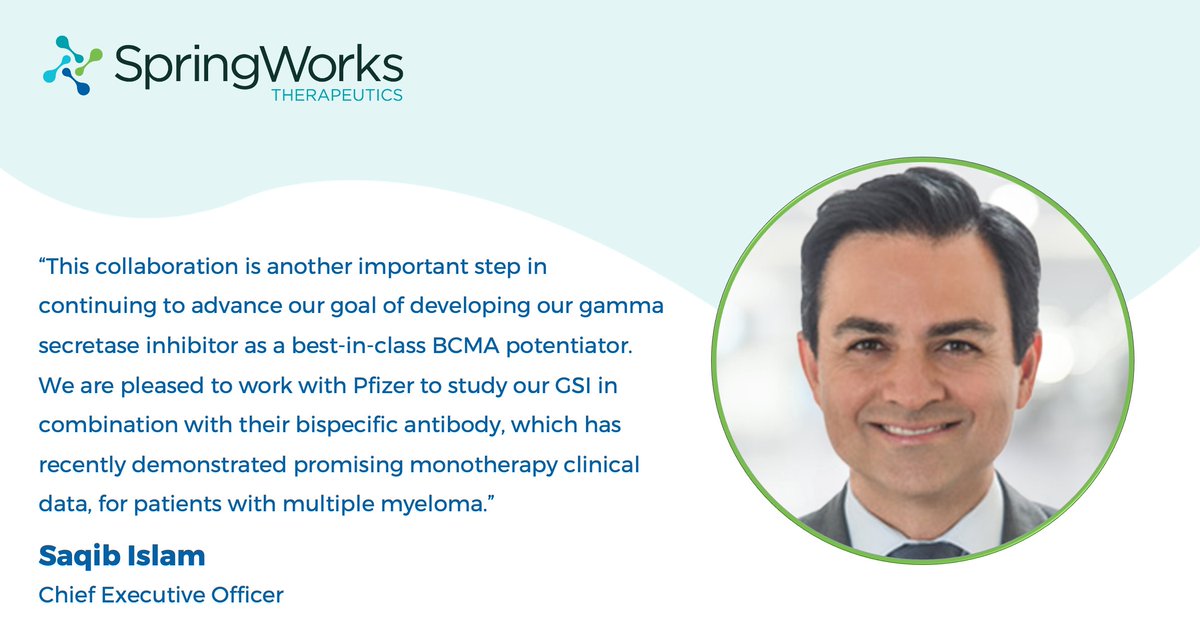 Under the terms of the agreement, Pfizer will sponsor and conduct the Phase 1b/2 study to evaluate the safety, tolerability and preliminary efficacy of the combination, and will assume all costs associated with the study, other than expenses related to the manufacturing of nirogacestat and certain expenses related to intellectual property rights. Pfizer and SpringWorks Therapeutics will also form a joint development committee to manage the clinical study, which is expected to commence in the first half of 2021.
Chris Boshoff, MD, PhD, Chief Development Officer for Pfizer Oncology at Pfizer Said: Entering into this clinical collaboration is a proud milestone in our strong relationship with SpringWorks,We believe that studying nirogacestat in combination with PF-06863135 could hold significant therapeutic promise for patients with relapsed or refractory multiple myeloma, and we look forward to working together to advance this important area of research.
In addition to its ongoing clinical collaborations with BCMA-directed therapies, SpringWorks is also currently conducting a global Phase 3, double-blind, randomized, placebo-controlled clinical trial (the DeFi Trial) to evaluate nirogacestat in adults with progressing desmoid tumors.
About Nirogacestat
Nirogacestat is an investigational, oral, selective, small molecule gamma secretase inhibitor in Phase 3 clinical development for desmoid tumors, which are rare and often debilitating and disfiguring soft-tissue tumors. Gamma secretase cleaves multiple transmembrane protein complexes, including Notch, which is believed to play a role in activating pathways that contribute to desmoid tumor growth.
In addition, gamma secretase has been shown to directly cleave membrane-bound BCMA, resulting in the release of the BCMA extracellular domain, or ECD, from the cell surface. By inhibiting gamma secretase, membrane-bound BCMA can be preserved, increasing target density while reducing levels of soluble BCMA ECD, which may serve as decoy receptors for BCMA-directed therapies. Nirogacestat's ability to enhance the activity of BCMA-directed therapies has been observed in preclinical models of multiple myeloma. SpringWorks is evaluating nirogacestat as a BCMA potentiator and has five collaborations with industry-leading BCMA developers to evaluate nirogacestat in combinations across modalities, including with an antibody-drug conjugate, two CAR T cell therapies and two bispecific antibodies. In addition, SpringWorks and Fred Hutchinson Cancer Research Center have entered into a sponsored research agreement to further characterize the ability of nirogacestat to modulate BCMA and potentiate BCMA directed therapies using a variety of preclinical and patient-derived multiple myeloma models developed by researchers at Fred Hutch.
Nirogacestat has received Orphan Drug Designation from the U.S. Food and Drug Administration (FDA) for the treatment of desmoid tumors (June 2018) and from the European Commission for the treatment of soft tissue sarcoma (September 2019). The FDA also granted Fast Track and Breakthrough Therapy Designations for the treatment of adult patients with progressive, unresectable, recurrent or refractory desmoid tumors or deep fibromatosis (November 2018 and August 2019).
About PF‐06863135
PF‐06863135 is an anti-B-cell maturation antigen (BCMA) CD3 bispecific antibody being investigated in a Phase 1 clinical study to treat relapsed or refractory multiple myeloma. This bispecific antibody can be administered subcutaneously and has been optimized for binding affinity to both BCMA and CD3, enabling more potent T-cell-mediated tumor cell toxicity.
Source: SpringWorks Therapeutics